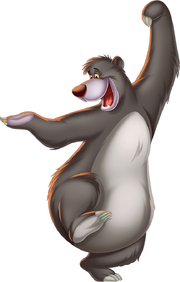 Quotes and Lines spoken by Baloo from Disney's The Jungle Book.
Films
The Jungle Book
[scatting] Well, it's a doo-bah-dee-doo, yes, it's a doo-bah-dee-doo, I mean a doo-bee, doo-bee, doo-bee, doo-bee, doo-bee-dee-doo. And with... [Sees Mowgli] Well, now. Ha ha! What have we here? [sniffs Mowgli] Hmmm. Say, what a funny little bit of a...
Oh, boy! I've seen everything in these woods. Ooh, what have I run on? What a pretty thing this is.
Well, now. That's pretty big talk, little britches.
Tsk, tsk, tsk, tsk. Pitiful. Hey, kid. You need help, and ol' Baloo's gonna learn ya to fight like a bear.
What do they call you?
Man village? They'll ruin him. They'll make a man out of him.
Certainly, you do.
"How do you think he will... " What do you mean how do you think he... He's with me, ain't he? And I'll learn him all I know.
Now, look. It's like this, little britches. All you gotta do is...
You better believe it. And you're gonna love the way they tickle.
[tugging on Bagheera's tail] C'mon, Baggy, get with the beat.
So just try and... relax. Yeah. Cool it. Fall apart in my backyard. 'Cause let me tell you something, little britches: if you act like that bee at... Uh-uh. You're working too hard. And don't spend your time lookin' around for something you want that can't be found...
Beautiful! That's real jungle harmony.
That's my boy. And you're gonna make one swell bear. Why, you even sing like one.
Bagheera!
BAGHEERA!!
BAGHEERAAAAAAAAAAAA!!!!!!![Baloo has screamed bloody murder in Bagheera's face, leaving him shaken. Baloo then realizes that Bagheera is in front of him] Oh, you heard me, huh?
They ambushed me! Thousands of 'em! I jabbed with my left, then I swung with the right, and then I--!
Like I told ya, them mangy monkeys carried him off!
I'll tear him limb from limb! I'll beat him! I'll.... I'll.... [starts dancing to the music] Yeah. Well, man, what a beat.
You better believe it, and I'm loaded with both!
Oh, yeah, yeah. [begins sneaking off into the music]
I'm gone, man. Solid gone.
Ha-Ha! Man that's what I call a swinging party.
Shhh! Keep it down, you're going to wake the little buddy. At Least, he's had a big day, it was a real sockaroo. You know it ain't easy learning to be like me.
Ha, ha. That's my boy.
A word? You going to talk some more? [yawns] All right, what's up, Bagheera?
I grew up in the jungle. Take a look at me.
Yeah. It's beautiful, ain't it?
Well, you don't look exactly like a basket of fruit yourself.
Why not?
[chuckling] I really don't know. Come to think of it, no panther ever asked me!
Oh, stop worrying, Baggy. Stop worrying, I'll take care of him.
Can't a guy make one mistake?
[suddenly very shocked and serious] The tiger? What's he got against the kid?
But little Mowgli doesn't have those things.
Oh! Well, well, what are we going to do?
You better believe it. You name it, and I'll do it.
[now angry] Are you outta your mind?! I promised him he could stay here in the jungle with me!
Why me?!
[humbled] But I love that kid. [sniffles] I love him like he was my own cub.
Well, can't-- Well, can't I wait until morning?
Oh boy!
Well, uh, it's uh... um... well, it's sorta new and, uh...
Mowgli, look, buddy, uh, there's somethin' I gotta tell ya.
Oh, gee whiz. Now, how did ol' Baggy put it? Uh, uh, Mowgli... Ha! You wouldn't marry a panther, would you?
Mowgli, don't you realize that you're a human?
Little buddy, look. Listen to me.
Mowgli, stop it now. Hold still. I wanna tell you something. Now listen to me.
Look, Mowgli, I've been trying to tell ya, I've been trying all morning to tell ya. I've got to take you back to the man-village!
Now look, kid, I can explain...
Now believe me, kid, I...
Now just a minute! That's going too far!
You're not gonna believe me, Bagheera, but look. Now I used the same words you did and he ran out on me!
Oh, boy, if anything happens to that little guy, I'll never forgive myself. I've gotta find him!
Run, Mowgli, run!
Are you kiddin'?! There's teeth in the other end!
[sniffling] He's cracking me up.
Beautiful.
[still sniffling] I wish my mother could have heard this.
...Hey, don't stop now, Baggie, you're doing great! There's more! Lots more!
Who, me? Sure, I am! Never felt.... better.
Aw, I was just taking five. Y'know, playing' it cool. Eh, but he was too easy.
Forget about those. They ain't nothing' but trouble.
So you've seen one. So, let's go.
Mowgli, wait a minute--
She did that on purpose!
[Mowgli is almost at the man-village entrance] Mowgli, come back, come back!
He's hooked.
[resigned] Yeah. I guess you're right. [smiles] But I still think that he'd have made one swell bear. [inhales] Well...come on, Baggy-buddy, let's get back to where we belong! And get with the beat! [singing] Look for the Bare Necessities, the simple Bare Necessities!
The Jungle Book 2
Oh! His future couldn't leave. [sighs] I miss my bear cub so much.
Just let Shere Khan try something. We handled old stripes once, we'll do it again.
Outta the way, Baggy!
Later, Baggy!
Kid, show me you can still fight like a bear.
Whoa, kid. Watch your language.
You don't need her, kid. You're with old Baloo now.
Well, of course you don't. It's just us bears from here on in.
What are you doing' out here, Baggy?
Wha-wha-what do they want?
Mowgli?
Me? Uh, no. Ha? You know his future is in that village.
Yeah. Whew. Sorry. But first I can help you, Baggy?
Baggy, Baggy, Baggy, Baggy. I can explain. I can explain. I...can explain but I don't have to, because, as you can plainly see, Mowgli is not here. I'm all alone. [Baloo looks at Bagheera, then smiles, with his teeth out]
Uh, he won't get past you, Baggy.
In case you haven't noticed, kid, I'm no wild animal. Except at parties.
You want quiet, go back to that man village. This place is happening.
Was, kid, was. He's 'splitsville'. Now me and the monkeys have turned it...into the greatest secret hideout ever.
Read you loud and clear kid. You wanted that girl to find you.
Television
TaleSpin
Oh no, I've had enough of those nuts!
Looks like it.
Well, Here we are at last; On the Road to Macadamia.
Is that a request?
[after crash-landing in Macadamia] I must be alive, 'cause I hurt too much to be dead.
Well, it looks like the Dough, ran low.
I like that girl's spark!
Yeah! I'll sing!
[picks Louie up] And when it comes to short, He's an expert!
An out-of-body experience; No wonder with a body like his.
Now don't you worry blue-blooded head, ol' Babaloo will save you.
Tut, tut, now run along and scare up a seance!
You can count on, us Princess.
Guess I'm just her type.
Good! Then why don't you just disappear!
What a lie. Goodbye!
If I'm not mistaken, the piano. [cut to outside, where a piano tethered to a Zhembrian fighter plane is being dropped repeatedly onto their hull] Zhembrians like to get your attention with large objects.
[surrounded by Air Pirates] Wait, wait! What's this red button for?
Thank you!
Where are what, Karny?
Well... they're sort of big... and mean... and ugly... and smelly.
Only a lousy hundred bucks?
This jail food's worse than Louie's all-you-can-stand-for-a-dollar special!
[after pirate song ends] One more time!
Let's make like a tree and, uh, get out of here!
No?
Uh, so y-you see, Rebecca, this sick aunt of mine really needs my help, and I thought...
Uh, eh, uh Milly Y-yeah, that's it! Aunt Milly!
Uh, well, uh, you see, Pop's side of the family was never very healthy.
[blindfolded] Oh wow, do I get to break open a pinata or something?
Wait! I'm allergic to lead!
Oh that's okay, I'm with him.
Disney's The Jungle Cubs
[of the edge of the world] Wow. That sounds like it might be a little bit out of the neighborhood.
Baggy could get hurt, or lost, or...
I'll make sure you don't.
I know, Lou. I'll never forgive ya either.
No way, Lou-ay.
Smooth entrance, fellas.
Over my dead body! [Swallows] What am I saying?
What's that, Khanie?
Video Games
Kinect Disneyland Adventures Series
Disney INFINITY Series