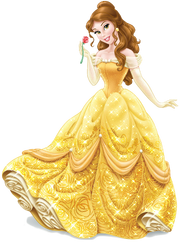 Quotes and lines spoken by Belle from Disney's Beauty and the Beast.
Films
Beauty and the Beast
Well, some people use their imagination.
Gaston, you are positively primeval.
Maybe some other time.
You always say that!
Yes you will, and you'll win first prize at the fair tomorrow. [Maurice frowns] And become a world famous inventor.
I always have.
What do you know about my dreams, Gaston?
Dogs?
Imagine that.
Let me think...
Gaston, I'm-I'm speechless. I really don't know what to say.
I'm very sorry, Gaston... but... but I just don't deserve you!
Who's there? Who are you?
I've come for my father. Please, let him out! Can't you see, he's sick!
But he could die! Please, I'll do anything!
Oh there must be some way I can... wait! Take me instead.
If I did, would you let him go?
Come into the light.
You have my word.
My room? But I thought...
No.
I'm not hungry!
No!
No, thank you!
Yes, I can!
I'm sorry.
I didn't mean any harm.
[cowering] Please... stop...
Promise or no promise, I can't stay here another minute!
Here now. [Beast licks his wounds] Oh, don't do that. [trying to clean his wounds with the rag] Just hold still.
If you'd hold still, it wouldn't hurt as much!
Well, if you hadn't frightened me, I wouldn't have run away!
Well, YOU should learn to control your temper![The Beast tries to counterpoint, but can't think of a good reason; so he bows his head in shame; the objects re-emerge] Now, hold still. This may sting a little. [applies the rag to the wound; though the Beast winces, he doesn't pull back this time] By the way, thank you for saving my life.
He's no monster, Gaston, you are!
Of course I came back. I couldn't let them.... [hugs the Beast] Oh, this is all my fault. If only I'd gotten here sooner...
Don't talk like that. You'll be all right. We're together now. Everything's going to be fine. You'll see.
No. No! Please. Please! Please don't leave me! [Sobs] I love you.
It is you!
Beauty and the Beast: The Enchanted Christmas
[chuckling briefly] Hello! Chip, do you know what day it is?
No, silly. Today is December 24th. The day before Christmas.
Oh, Chip, you must know about Christmas. Stockings in front of the fire. Tree? Tinsle? Presents?
Of course, everyone gets a present on Christmas.
Yes, even the master.
Forbid Christmas? No one can forbid Christmas.
[sighs] Not yet.
It's a... a Yule log.
A Yule log. It's a wonderful tradition. One log is chosen, and everyone in the house touches it and makes a Christmas wish.
No. But I will keep wishing. And when the log is burnt on Christmas morning...
But...
[horrified] How can you be so selfish?
Prisoner? The only one holding us prisoner here is you. Well, I'm not giving up!
Please to meet you, Monsieur Forte. I'm Belle.
I wasn't trying to leave. I was just trying to make you happy.
[tearfully] I should've known you'd never be anything - but a beast.
Oh, Chip, I'm sorry. Nothing's changed.
[singing] You belong side by side, you should never be apart, 'cause when you're both together, you're really twice as smart.
Beauty and the Beast: Belle's Magical World
I've been reading the most wonderful book.
Tranquil?
Um, yes we have.
That is a good word. You're a very smart dictionary.
So you won't believe what the fairy god-mother does she casts a spell that solves all the girls problems, but there is a catch it only last until midnight.
Just because it's your castle doesn't mean you should be rude.
Fifi, ah where are you going?
I beg your pardon?
Belle's Tales of Friendship
Mickey's Magical Christmas: Snowed in at the House of Mouse
Television
Sing Me a Story with Belle
House of Mouse
Sofia the First
"Princess Sofia! Your amulet brought me here to help."
"Well, the only person who can undo the curse is you."
"Well...Think about what you can do to make your friends happy."
Video Games
Disney Magical World Series
Kinect Disneyland Adventures Series
Kingdom Hearts Series
"You've come to seal the Keyhole, right? Please, be careful. The darkness is raging deep inside. We've been holding it back, but we can't hold out much longer."
"This is for you. Use it to face the darkness, as the Beast has."
"So many books, but not one on how to banish the darkness. Maybe it's hopeless..."
"I didn't ask you to come. And it doesn't matter anyway. I'm not going back with you, so you're wasting your time."
"I've nothing more to say. Now leave, before Maleficent finds you."
"Who are you? Did Maleficent kidnap you, too?"
"It's just that—Oh no, she's coming! Hide, quickly! There's no time to explain. Hide yourselves! Now!"
"You know very well why. I'm not going to fall into your trap!"
"No! Please! Unnh...?"
"Please forgive me. I had to be cruel to you. But I guess I couldn't hide my true feelings..."
"I wonder if he's off chasing those horrid creatures again. He's had to do that every day for weeks...I wish there were some way I could help. Perhaps I'll ask Cogsworth and the others. I'm sure that together we can figure something out."
"Please—you must stop doing this. It's too much. If something were to happen to you...I don't know what I'd..."
" He just isn't himself lately...I wonder what's happened. I'll go ask the others. Maybe they know of some way I can help."
"Oh, I'm so happy you're here!"
"Oh, he must be in the west wing. We don't talk like we used to."
"He's been acting strange lately. The only ones who might know why are locked up in the dungeon. I want to help them, but..."
"You should be able to get to the undercroft from the west hall. Everyone's probably locked up in the dungeon beyond there."
"Beast! Help! I'm in the ballroom!"
"I wish you could start trusting me."
"But surely, you can find another rose..."
"Look! It's the rose!"
"It's the least I could do. You've been good to me. And you didn't have to be."
Ad blocker interference detected!
Wikia is a free-to-use site that makes money from advertising. We have a modified experience for viewers using ad blockers

Wikia is not accessible if you've made further modifications. Remove the custom ad blocker rule(s) and the page will load as expected.