Ch'rell
Background information
Feature films
Teenage Mutant Ninja Turtles
Television programs
Video games
Books
Park attractions
Portrayed by
Portrayed by
Animators
Voice
Scottie Ray
International Voice
Performance model
Designer
Inspiration
Honors and awards
Character information
Full name
Ch'rell
Other names
Shredder
Utrom Shredder
Oroku Saki
Duke Acureds
Torrinon
Kako Naso
One True Shredder
Personality
Ruthless, vain, callous, intelligent, megalomaniac, murderous, insane, notorious, chaotic
Appearance
Age
Birthday
Occupation
Alignment
Affiliations
Bad
Goal
To be free and create chaos.
Home
Utrom Homeworld
Earth: Foot Headquarters
Relatives
Love Interests
Pets
Allies
Minions
Enemies
Teenage Mutant Ninja Turtles, Mortu
Likes
Power, ruling, creating chaos, causing destruction
Dislikes
Turtles, Splinter, Hamato Yoshi, failure, being defeated
Powers and abilities
Master Tactician and Strategist, Intimidation, "Cheating Death", Master of Disguise, Business Management
Weapons
Sword of Tengu, Shredder Exosuit
Fate
Gets vaporized by the Technodrome's laser
Quote
"I am the Shredder!"
[Source]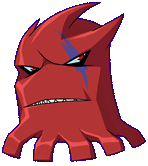 Trivia
Ch'rell is, so far, the most evil version of the Shredder, as well as being one of the most evil cartoon characters of all time.