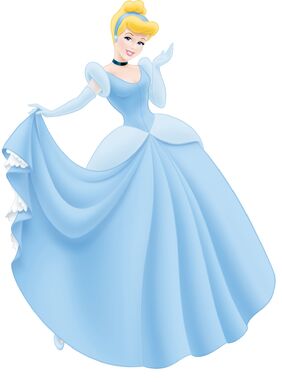 Cinderella is the main protagonist of the 1950 film of the same name, its sequels and the 1st film's upcoming 2015 remake. She is the 2nd official Disney Princess after Snow White.
Fandom
Gallery
Trivia
Cinderella was one of only 2 Disney Princesses to be drawn by Marc Davis.
Cinderella's original voice Ilene Woods died 60 years later in 2010 at the age of 80.
Cinderella was the 1st Disney Princess to get married predating Ariel, Jasmine, Mulan, Tiana and Rapunzel.
Cinderella was the 1st Disney Princess to be a royal by marriage, predating Belle and Tiana.
Similarities with other Disney characters
Cinderella shares a few similarities with Maya:

Both dream of a better life.
Quotes
Ad blocker interference detected!
Wikia is a free-to-use site that makes money from advertising. We have a modified experience for viewers using ad blockers

Wikia is not accessible if you've made further modifications. Remove the custom ad blocker rule(s) and the page will load as expected.