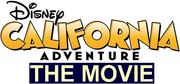 Come join the Disney Cast at the Magic Kingdom of Disney California Adventure. Where dreams come true. Join him hosts Jaleel White, he was a good voice of Sonic from: Sonic the Hedgehog (Satam). Then, Jaleel glad to meet all the Disney Friends at the California Adventure and where dreams come true.
Plot
Disney World Capters
Magic Kingdom (Begin): California Adventure
Disney Clubhouse: Mickey Mouse Clubhouse
Mexico: The Three Caballeros
New York: Oliver & Company
Toybox: Toy Story
The Island of Savages: Pocahontas
The City of Bells: The Hunchback of Notre Dame
Olympus Coliseum: Hercules
The Land of Dragons: Mulan
Deep Jungle: Tarzan
Atlantis: Atlantis The Lost Empire
Treasure Planet: Treasure Planet
Hawaii Island: Lilo & Stitch
Land ot the Llamas: The Emperor's New Groove
A World of Superheros: The Incredibles
Kingdom of Corona: Tangled
Sugar Rush: Wreck-It Ralph
Arendelle: Frozen
San Fransokyo: Big Hero 6
Hollywood Tower Hotel: The Twilight Zone Tower of Terror
Magic Kingdom (Happy Ending): California Adventure
Characters
Mickey Mouse Clubhouse
Mickey Mouse
Minnie Mouse
Donald Duck
Daisy Duck
Goofy
Clarabelle Cow
Pluto
Chip and Dale
Clarice
The Three Caballeros
Donald Duck (Mexico)
Jose Carioca
Panchito Pistoles
Toy Story
Woody
Bo Peep
Buzz Lightyear
Jessie
Barbie
Ken
Rex
Slinky Dog
Hamm
Mr. Pototo Head
Mrs. Potato Head
Little Green Men
Pocahontas
Pocahontas
John Smith
Meeko
Flit
The Hunchback of Notre Dame
Quasimodo
Esmeralda
Captain Phoebus
Hugo
Victor
Laverne
Hercules
Hercules
Megara
Phil
Pegasus
Zeus
Hera
The Muses
Mulan
Mulan
Shang
Mushu
Cri-Kee
Tarzan
Atlantis The Lost Empire
Hosted
Voice Cast
Songs
Gallery
Transcript
Ad blocker interference detected!
Wikia is a free-to-use site that makes money from advertising. We have a modified experience for viewers using ad blockers

Wikia is not accessible if you've made further modifications. Remove the custom ad blocker rule(s) and the page will load as expected.