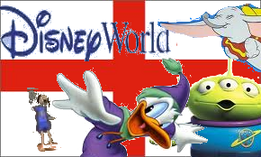 Disneyworld England is a fictional theme park in England.
Locations
These are the "lands" in Disneyworld England.
Sydney
This is where the Finding Nemo attractions take place.
Toy Town
Toy Story themed stuff is here.
ToonTown
The Trolly: a bus ride.
Gag Shop: a desert/snack shop.
Cog Golf: A mini-golf court. From here you can get a cog golf kart to Pixar Park.
Caribbean
Minisney
This is an area especially for young children too small or too scared for the other rides.
Donald's Racing: a racing slide
Scrooge McDuck's bank: a restaraunt which serves food, designed for kids, based on DuckTales.
Quotes
"Let the fishventure begin!"
"Food For Fish."
"RC but no RCs."
"Toy for one and one for all!"
Ad blocker interference detected!
Wikia is a free-to-use site that makes money from advertising. We have a modified experience for viewers using ad blockers

Wikia is not accessible if you've made further modifications. Remove the custom ad blocker rule(s) and the page will load as expected.