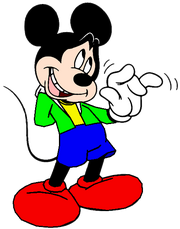 Quotes and lines by Elmer Mouse.
Hero's Son and Rival's Nephew
"Okay. I'll see you this afternoon."
"I just got kissed by a girl on the lips."
"My bald eagle!"
"All right, who's out there?!"
"Walter Cunningham!"
"Ugh! I hate it when he gets the drop on me!"
"Oh! Toe, toe, toe! Ow!"
"Oh! Toe, toe, toe! Ow!"
"Are you crazy!? That's the women's locker room! Get out of there!"
"Whoops! Sorry, little girl. Didn't see a thing."
"We need to talk, Walter Cunningham! There's no point in arguing when Maia's done with you! She means it!"
"Maia never liked you and she doesn't at all! She loves me!"
"You really are trying to steal her in front of me, are you!?"
"He's very wrong! He wants to steal her from me!"
"I can't..."
"No. I didn't think you would know. Walter Cunningham wants to steal Maia Pfeffer from me."
"He thinks she is his girlfriend, but she isn't. She broke up with him two years ago. He tried to break us up, but he only succeeded in smashing this."
"This is entirely his fault. I don't know why he wants her back and me away from her. I hate him!"
"He does?"
"Elmer, ma'am. Just Elmer."
"Bye, Minnie."
I was thinking the same thing. You look very familiar.
I've always loved you.
Shut your mouth, Walter Cunningham! It's none of your business!
Call the police!
There's a phone booth on the other side of the walkway!
"No!"
"Oh, I hate this."
"And I thought I was just having a bad dream."
"I tried to save my friends at a cemetery from three dangerous men with guns."
"One tried to steal a girlfriend from what they say is my father, but I do not know if he is."
"That's what I'm afraid of."
"Thanks, guys."
Mouse Town
"Thank you so much for bringing me! Now if you'll excuse me, I'll be throwing up in the lobby!"