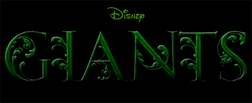 Giants is a 2016 hand-drawn animated film directed by Ron Clements and John Musker, and written by Clements, Musker, and Dan Fogelman. The songs in the movie are written by Robert and Kirsten-Anderson Lopez.The film is the 57th film produced by Walt Disney Animation Studios and the 9th film of The Disney Revival.
Plot
Ever since their father left, Jack and Inma have been trying to take care of themselves and their sick mother, Martha. They live in the only part of the Kingdom of Grydan that still has food. Most of the food has been taken by the Giants, after the king failed to fulfill a promise. One day, the king sends his daughter, Angelina to get food and she gets some from Jack and Inma. However, she only repays them by giving her three beans. When they are planted, they grow a beanstalk tall enough to go to the Kingdom of the Giants. They befriend a giant named Fumbert and they team up to take down the leader of the Giants, Faustus, and try and save the kingdom.
Cast
Humans
Andrew Garfield as Jack
Sabrina Carpenter as Inma
Anna Kendrick as Princess Angelina
Ron Pearlman as King Oliver
Bernadette Peters as Queen Sandra
Joan Cusack as Martha
Giants
Simon Pegg as Fumbert
Ben Kingsley as Faustus
Jim Cummings as Feebus
Jess Harnell as Fifen
Troy Baker as Fogel
Songs
"The Beasts Who Roamed Grydan" - Queen Sandra
"Proud of Your Kid" - Jack and Inma
"Hello!" - Jack, Inma, Queen Sandra, and Princess Angelina
"Absolutely Green" - Fumbert
"Be Prepared" - Faustus, Fumbert, and The Giants
"You and Me (And Also Me!) - Jack, Inma, and Fumbert
"That's All I've Got to Say" - Jack and Angelina
"One Day More" - Cast
Kid - Peter Andre
"That's All I've Got to Say (End Credits)" - Dan Smith and Charli XCX
Ad blocker interference detected!
Wikia is a free-to-use site that makes money from advertising. We have a modified experience for viewers using ad blockers

Wikia is not accessible if you've made further modifications. Remove the custom ad blocker rule(s) and the page will load as expected.