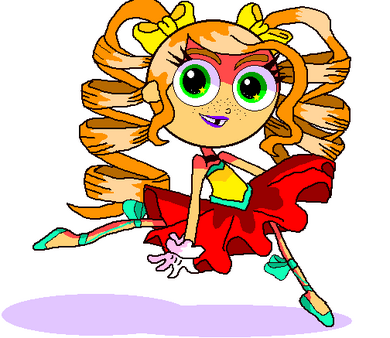 Princess Gikku Gingereena Rosalinndaa Puckett
Background information
Feature films

 Gingereena (film), Pinoke & Gigi 2, Disney's 12 Dancing Princesses, Princess and The Pea, Lampy & Mel (mentioned)

Television programs
Princess Angeline,Disney's New House Of Mouse
Video games
 Gingereena, Pinocchio Party 360, Pinocchio Party 360 2,Kingdom Hearts: The Missing Heart, Kingdom Hearts: Dream Smasher
Park attractions
Fantasmic!, World of Color, Gingereena's Epic Ride
Animators
Tiffany Ikhile, Pete Docter
Voice
Brittney Pirtle(films)

Britney Spears (singing voice) Kath Soucie (Kingdom Hearts ) Urara Takano (Japanese)

Inspiration
Pinocchio,Ariel,Merida,Samuel J. Jackson
Honors and awards

Number 7 Sexiest Disney Heroine

Number 3 Greatest Pixar Heroine

Character information
Personality
Fearless, clever, understanding, spunky, feisty, charitable, bold, selfless, caring, strong, humorous, free, beautiful
Appearance
Slender, neon Orange hair,yellow and aqua green leotard, Red tutu, aqua green ballet shoes, opera gloves, yellow hair bows, emerald green eyes , Gaurder belt
Occupation
Pinocchio's Girlfriend, "Princess" of The Wealthy Puckett Family ,mother, Captain of the Whimsy Ballet Squad, Tarroy Arts Academy Student
Affiliations
Good
Goal
To become a professional ballerina (succeded)
Home
Paris, France
Relatives

Pinocchio (Boyfriend,husband) Queen Madame Puckett (mother/creator) Master Lo Mein (father/creator, deceased)

Prince Travis (son) Princess Angeline (daughter) Princess Jazzie (daughter)

Pets
Dingus (zebra), CiCi (cat)
Allies
Phoebus, Pinocchio,Lampwick,Melanie Setori, Yin Sid, Jiminy Cricket, Daffidil, Flick,Princess Atta,Dot,Nickey Mouse, Nicki Mouse Djali, Quasimodo, Zephyr, Clopin, Archdeacon, Madellaine, Esmeralda ,Sora, Riku, Dream Eater (Spirits), Ludwig Von Drake, Mickey Mouse, Lightning Mc Queen,Mater,Sally,Russel,Doug,Mr Fredrickson,The Incredibles,Mike, Sulley,Boo other gypsies, people of Paris, guards, Disney Princesses, Junior Disney Princesses,The Avengers
Minions
Dingus,CiCi,Dalphnie
Enemies
Marissa Witchley,Claude Frollo, Marrisa, The Misery Twins, Genndy Bexter, All Disney Villans Dream Eater (Nightmares),All Pixar Villans
Likes
Dancing, Pinocchio, helping others (including her friends), Movies, Slow Dances
Dislikes
All Pixar Villans ,her friends in danger
Powers and abilities
 Seducive Orange Hair,Gymnastics,Martial Arts
Weapons
Magic Hammer
Fate
Marries Pinochio and has 3 children
Quote

"Daffy! not infront of Pinocchio"

"WHAT THE JUNK!!

"Of course I am, why wouldn't I be?"
Bio
Gingereena is the protagonist of Pixar's Gingereena. She is the 5th member of the Junior Disney Princess Lineup. Also she is the female counterpart of Pinocchio. She is also the child of The Wealthy Puckett Family because of her mother being a very wealthy toy maker and fashion designer. She often calls herself a "Princess". She is attending Tarroy Arts Academy as a 4th grader with a Martial Arts/Japanese Literature/Ballet major. She is voiced by Brittney Anne Pirtle, who was Emily from Power Rangers Samurai.
Appearance
Gigi is a living dress up ballerina doll who wears a yellow, Aqua Green and red dress, a pair of aqua green ballet shoes, opera gloves and a pair of yellow bows. She is usually seen with a Sparkly aqua green garter belt.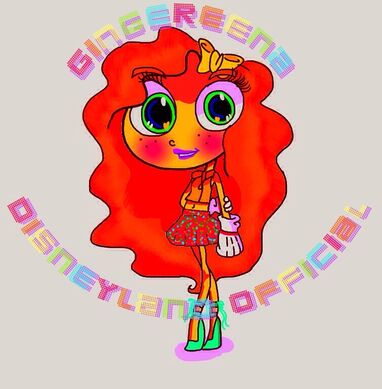 Role in Gingereena
GiGi was a non-living dress up doll brought to life by her fairy god best friend The Pink Fairy. GiGi wanted to join The Whimsy Ballet Squad. She meets a cold hearted queen bee named Marissa and her friends The Misery Triplets. When Rosy's mother was turned into an ant by Marissa. GiGi, Dingus, CiCi and Pink Fairy must travel to the far outskirts of Paris to find a gypsy to break the spell. Gigi befriends a gypsy girl named Melanie Setori who is able to break the spell.
Relationship towards Pinocchio
In Pinoke & Gigi 2, Pinocchio and friend visit Paris during the summer, through out the film Pinocchio starts to have feelings for GiGi.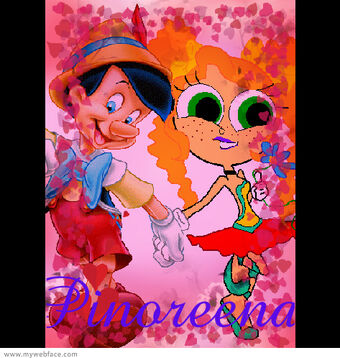 Friends
Daphne Fairyton (Fairy God Best Friend)
Melanie Setori (Gypsy Best Friend)
Genesis Gonzolez
CiCi (Pet Cat)
Dingus (Pet Zebra)
The Blue Fairy
Figaro
Cleo
Geppetto
Pinocchio 
Jiminy Cricket
Lampwick
Mickey Mouse
Minnie Mouse
Nikey Mouse
Nikkie Mouse
Sora
Terra
Aqua
Kairi
Donald Duck
Daisy Duck
All Disney Princesses
Alice
Wendy Darling
Melody
Penny (The Rescuers)
Cody (The Rescuers Down Under)
Peter Pan
All Disney Fairies
All Disney Princes
Horase Horsecollar
Clarabelle Cow
Enemies
All Disney Villans
All Pixar Villans
Loki
Pete
Stromboli
The Couchman
Honest John
Gideon
The Misery Twins
Marissa (Maleficent's Daughter)
Family
Pinocchio (Boyfriend/Possible Husband)
Madame Felicity Puckett (Creator/Mother)
Sir Tomo Harishido Puckett (Creator/Father)
Princess Angeline (Possible Daughter)
Princess Jazzie (Possible Daughter)
Prince Travis (Possible Son)
Dingus the Zebra (Pet)
Douggy Rabbit (Pet Rabbit)
Once Upon A Time
Gingereena is a student at Tarroy Arts Academy. Her Storybook counterpart Andelle Vermont is a Dress Model who is married to a wealthy business man.
Gallery
Kath Soucie (Kingdom Hearts)
Tara Strong (House of Mouse)
Trivia
Gigi is the Shortest Princess in the Disney Princess franchise.
Originally Gingereena was suppose to be The Princess of Notre Dame, and she was going to find out in Pinoke & Gigi 2. But the concept was scrapped a year later.
Gigi is the first Disney Princess to have a KeyBlade in The Kingdom Hearts Series.
Gigi is the second official Disney Princess to have kids, the first was Ariel.
Gigi is the third Heroine to have Green eyes, the first was Rapunzel, second was Esmerelda.
Gigi is is the third Female Protagonist in Pixar, The first being Merida from Brave, and the second being Riley from Inside Out.
Gigi is the youngest Disney Princess to be married.
Gigi is the second Disney Heroine to wear opera gloves, the first was Minnie Mouse.
Gigi is the first Disney Princess to be in a Crossover Film (Pinoke and Gigi 2)
Gigi is the fourth Disney Heroine to have freckles, The first was Rapunzel, The second was Merida and third is Anna.
Gigi is the First Disney Princess to have her video game for X-BOX 360.
Gigi is the first Disney Princess to have an actual last name and middle name, Gingereena Rosalinndaa Puckett.
Gigi is one of the Princesses to not become a Queen.
Gigi is one of the few Princesses to have a Weapon.
Gigi is the second Princess to know martial arts, the first was Mulan.
Gigi is the first Disney Princess to wear Ballet Shoes.
Gigi is the third Disney Heroine to be friends with a Disney Fairy, the first was Wendy and the second was Jane.
Gigi is the third redheaded Disney Princess, first was Ariel, second was Merida.
Gigi is one of the few female character to perform a solo in Disney's All New House of Mouse.
Gigi is Pixar's very first Japanese character.
On December 5th 2013, Gingereena was announced as the Disney version of Amy Rose from The Sonic the Hedgehog Video Game Franchise.
Ad blocker interference detected!
Wikia is a free-to-use site that makes money from advertising. We have a modified experience for viewers using ad blockers

Wikia is not accessible if you've made further modifications. Remove the custom ad blocker rule(s) and the page will load as expected.