This article, Lucy Callaghan, is property of Chechensichkeria. Please do not edit without permission.
"I may have been your wife before, but those days are over; I'm just your attorney now. I'm here on business, not to socialize with you as a friend. You're really teetering on the edge, Robert. Just make sure you don't fall off the cliff."
― Lucy to Robert Callaghan
Lucy Callaghan, Esq., born Lusine Yeghiazaryan, is a supporting character in the Big Hero 6 franchise. She is an Armenian-American criminal defense attorney, former wife of roboticist Robert Callaghan, and mother of Abigail Callaghan. Though she divorced Robert prior to the events of the film, she finds herself assigned to Robert's criminal case following his attacks on San Fransokyo as Yokai.
She is portrayed by Armenian-Canadian actress Arsinée Khanjian.
Background
Official Description
"Juggling the duties of being a mother, a wife, and a lawyer have certainly not been easy for Lusine "Lucy" Callaghan. Formerly married to roboticist-turned-criminal Robert Callaghan and the mother of Krei Tech pilot Abigail, Irene is respectable and revered in her own right. One of the leading criminal defense attorneys in all of the United States, she unexpectedly finds herself encountering Robert in the most ironic place possible – in court."
Personality
As a long-time criminal defense attorney, Lusine is a woman of varying morals and ethics.
Physical Appearance
TBA
History
Early Life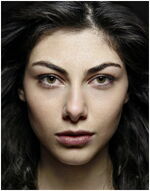 Lusine Yeghiazaryan (Armenian: Լուսինե Եղիազարյան; Russian: Лусине Егиазарян) was born in the city of Kirovakan, Armenian SSR, of the Soviet Union (presently Vanadzor, Armenia) to unnamed ethnic Armenian parents. She was the couple's first child and only daughter before her two younger brothers. Both her parents were highly devout Christians despite Soviet rule, and Lusine was baptised as an infant by the Armenian Apostolic Church. Born into a working-class family, both Lusine's mother and father were factory workers. Growing up, Lusine was described as a "hotheaded ball of fire" by her parents, implying a more rebellious and spunky attitude. Abigail, her future daughter, was also have said to have "inherited her [Lusine's] wild and fiery spirit" by Robert. As a child, Lusine displayed resistance against and disinterest in her parents' religious views, much to their annoyance. Instead, she developed a curiosity and interest in the Western world.
Not much else is known about Lucy's personal background and history, as she tends to keep her past to herself. She eventually left her parents and siblings behind in Armenia to study law at Yale Law School in Connecticut, later settling in Boston to work for her uncle's law firm, Yeghiazaryan, Rainer, as an associate attorney for some time. It has been implied that Lucy lost contact with her family after her immigration. It was also in the United States that she began referring to herself as "Lucy" instead of "Lusine". In Hilo, Hawaii during a vacation, a young Lucy met Robert Callaghan, then an aspiring soldier in the Marines[2][3]. The two eventually fell in love with one another, with Robert and Lucy maintaining a long-distance relationship during his travels with the Marines. Robert later resigned from the military to settle in San Fransokyo with Lucy. He revived his childhood passion for robotics and engineering while Lucy became an attorney and lawyer. The couple then had one daughter, Abigail.
As a Mother
TBA
Relationships
"Well, never in a million years would I have guessed that I'd see your face negatively in the news. What's more surprising is the fact that I'm seeing you here in court as a client. Hello, Robert. It's nice to see you again."
― Lucy to Robert
"What, so you left me as a kid to take care and fend for myself, but now you think you have the right to call me your ''daughter''?"
― Abigail to Lucy
Abigail and Lucy have always been on awkward and tense terms with one another, with the former despising the latter for her "terrible parenting" during her childhood. Though Abigail has always held her father in higher regard than her mother due to the deeper bond Robert established with her, Lucy still cares for her daughter, nevertheless. It wasn't until Robert's obsessive desire to "get Abigail back" that Lucy left the man out of anger due to his changed behaviour and excessive talk about their seemingly lost daughter. Unlike Robert, Lucy was able to cope with Abigail's "passing" pretty well, eventually returning to her routine life after few weeks of mourning.
Gallery
TBA
Trivia
Name Etymology
Lusine
Lusine (Լուսինե) is an Armenian feminine name meaning "moon".[4] Her parents chose this name due to the fact that she was born on a night of a full moon.
Lusine was called "Luso" (Լուսո)[5], an affectionate diminutive of her name, as a child in Armenia.
Yeghiazaryan
TBA
Fun Facts
She reverted to her maiden name, Yeghiazaryan, after divorcing Robert. Some official documents still have her name written as Lucy Callaghan, however.
Lucy is now a cultural, non-practising Christian due to Robert's influence on her as a youth. She and Robert are both deists, meaning that they believe that a deity/god exists, but does not interact with the universe[6]. The couple also raised Abigail as a deist.
Lucy is fluent in Armenian and English.
She chose Abigail's middle name, Varduhi (Վարդուհի), which is an Armenian name meaning "rose lady".[7]
Lucy is fluent in Armenian, Russian, and English.
Scrapped Concepts
Her early developmental stages had her portrayed as first Polish (as Marlena Kazmierczak), then Georgian (as Irine Petriashvili), then Greek (as Irene Vasilakis).
References
Ad blocker interference detected!
Wikia is a free-to-use site that makes money from advertising. We have a modified experience for viewers using ad blockers

Wikia is not accessible if you've made further modifications. Remove the custom ad blocker rule(s) and the page will load as expected.