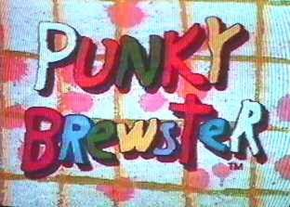 It's Punky Brewster
is an animated spin-off of the live action television sitcom
Punky Brewster
. It was animated by Ruby-Spears Productions.
Synopsis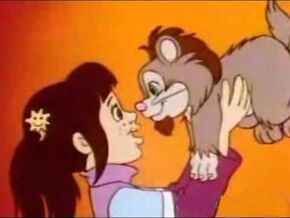 The series featured the voices of the original
Punky Brewster
cast as their respective characters. A new character, Glomer (voiced by Frank Welker), was added as the "leprechaun gopher". He came from Chaundoon, a city at the end of the rainbow and possesses various magical powers. One such power was the ability to transport Punky and her friends, Margaux, Cherie, and Allen, and at times her dog, Brandon, to any part of the Earth instantly. Some episodes included Glomer having to correct his own mistakes, as when he plays around with magic and transforms Henry into a statue of Julius Caesar.
It's Punky Brewster
is the series' unofficial name; on the title card and in TV listings, it was simply called
Punky Brewster
.
In season 2, shows 4 through 13 had a first-run episode and a repeat from the first season. The series was canceled in September 1987 but returned in replays in October 1988 after NBC's live action pre-teen show 2 Hip 4 TV was canceled. Selected episodes were syndicated as a revolving feature of DIC's Maxie's World in 1989.
Artworks
Characters
Episodes
Season 1
Punky To The Rescue
The Quartersize Quarterback
The Gold Rush
Phar Out Pharaoh
Pretty Ugly
Glomer's Story
Brandon The Dialogue Dog
Winning Isn't Everything
Punky Wise And Pound Foolish
Christmas In July
Return To Chaundoon
A Small Mistake
Halloween Howlers
The Perils Of Punky
Glomer Punks Out
Louvre Affair
Growing Pain
Double Your Punky
Spellbound
The Shoe Must Go On
Switchin' Places
How The Midwest Was Won
Any Wish Way You Can
The Bermuda Tangle
Unidentified Flying Glomer
Fish Story
Season 2
Little Orphan Punky
Punky's Millions
Punky, Snow White And The Seven Dwarves
Punky The Heiress
Fair Feathered Friend
Be My Glomley
All In Henry's Family
Call Me Ms.
Punky P.I.
Mississippi Mud
Punky's Little Acre
Camp Confusion
Bright Eyes
Mother Of The Year
Allen Who?
Caught In The Act
Theme Song
Punky Brewster Theme
Voice Cast
Soleil Moon Frye as Punky Brewster
Cherie Johnson as Herself
Ami Froster as Margaux Kramer
Casey Eillson as Allen Anderson
Geroge Gaynes as Henry Warnimont
Frank Welker as Glomer and Brandon the Dog