Story: The opening number, Together Again: Begin Scooter has dreams of the Muppets as babies, he begins to realize just how alone he is in the world. The next mornings, at the Muppet Theater Dr. Teeth and the Electric Mayhem perform Can You Picture That in the ending. The Muppets are preparing for going on vacation in Hawaii. Scooter tells Kermit the Frog about how he misses his sister Skeeter and what to reunite with her. The Muppets soon realize that the friendship is more important than their vacation. The Muppets decide to search for Skeeter & soon encounter Wormwood Soames (played by Ty Burrell), the detective a visit at his office from the Muppets. After convinced, Wormwood they set out there adventure through a montage and sing You Can't Take No for an Answer. Also, the Muppet's old nemesis, Rachel Bitterman, from It's a Very Merry Muppet Christmas Movie, now working as sign holders at Mad Man Mooney and Sons after Sweetums joining his friends in Hollywood. When she sees Kermit and his family past her, she immediately decides to seek revenge on them. She enlists a minion to help her in her plans; Miss Poogy. But then Kermit points to the arrival of the Sesame Street regulars, including Abby Cadabby, Murray Monster, Ovejita and others, join the festivities. Later the Muppets meet Uncle Matt and Robin has found a hole leading to Fraggle Rock. In the cave, the Muppets soon stumble upon the Fraggles and join them there journey. Kermit encourages to Scooter when faced with defeat, Scooter retreats convinced that he's let everyone down and sings Just One Person" to prove it. The others gradually join in (as well as various Fraggles and Sesame Street Muppets). The next morning, the Muppets come across Danhurst College which they links to a postcard Scooter has from his sister. The Muppets conclude that they have successfully located his sister explain that she was at college the whole time. When the Muppets celebrate their victory Rachel Bitterman who is holding Kermit hostage, Miss Piggy stops them by knocks out Rachel Bitterman and Miss Poogy and then arrested by Wormwood. Kermit break-up with Denise because he real lie that he love Piggy more and end up back together again and share a kiss in a moment. The Muppets perform Rainbow Connection including Emmet Otter's Jug-Band Christmas characters, Skeeter and Alex in the finale. In the post-credits scene, Bitterman and Poogy are in there jail cell at the end of the story. 
Cast
Ty Burrell as Wormwood Soames
Joan Cusack as Rachel Bitterman
Muppet Characters (speaking)
80s Robot, Afghan Hound, Andy and Randy Pig, Angel Marie, Annie Sue, Alynda, Animal, Armadillo, Babies, Bad Polly, Beaker, Behemoth, Bean Bunny, Beauregard, Beautiful Day Monster, Big Mean Carl, Bill the Bubble Guy, Bill, Blind Pew, Blotch, Brewster, Boo Monster, Bobby Benson, Bobo the Bear, Bubba, Bubba the Rat, Bulls, Captain Pighead, Carter, Camilla the Chicken, Chickens, Chip, Clifford, Clueless Morgan, Constantine, Crazy Harry, Croaker, Crocodile, Cue Card Monster, Cynthia Rose, Debbie, Denise, Digit, Dr. Bunsen Honeydew, Dr. Phil van Neuter, Dr. Teeth, Doglion, Dr. Julius Strangepork, Droop, The Elvises, Floyd Pepper, The Flying Zucchini Brothers, Flower-Eating Monster, Foo-Foo, Fozzie Bear, Frackles, Forcryingoutloud Bird, Fish, Frogs, Gramps, Gloria Estefan (penguin), Gil, Goggles, Gonzo, Gorgon Heap, Hobos, Howard Tubman, Janice, J.G., Johnny Fiama, Jill, Kermit the Frog, Leon, Lew Zealand, Link Hogthrob, Lips, Lou, Lubbock Lou, Luncheon Counter Monster, Mad Monty, Mahna Mahna, Marvin Suggs, Mean Mama, Mildred Huxtetter, Miss Piggy, Miss Kitty, Miss Poogy, Mo Frackle, Mrs. Appleby, Mulch, Muppaphones, Muppets Tonight Writers, The Mutations, Molly Monster, The Newsman, Nigel the Conductor, Nigel the Director, Norman (ram), Old Tom, Ohboy Bird, Ohreally Bird, Penguins, Pepe the King Prawn, Pops, Pigs, Pokey, Quongo, Rats, Righton Bird, Robin the Frog, Rowlf the Dog, Rizzo the Rat, Sal Minella, Sam the Eagle, Skeeter, Scooter, Singing Food, Slim Wilson, Seymour, Statler and Waldorf, Snowths, Spamela Hamderson, Spotted Dick, The Swedish Chef, Sweetums, Thog, Timmy Monster, Tug Monster, Uncle Deadly, Walter, Walleye Pike, Wayne and Wanda, Whatnots, Whaddayasay Bird, Yolanda Rat, Youknow Bird, Zelda Rose, Zoot, Zippity Zap, Zondra
Background Muppets (non-speaking)
Alligators, Alphonso D'Abruzzo, Aliens, Arnie the Alligator, Alien Gonzos, Armstrong the Chicken Hawk, Barbershop Cactus Quartet, Beth Bear, Be-Bop, Bears, Black Dog, Birds, Bunnie Bear, Calico, Cecil Bear, Chauncey the Turtle, Cockatoo, Clarissa, Cosmic Fish, Dead Tom, Dogs, Dodo, Edgar Bear, Ernest Pleth, Eric the Parrot, Eugene the Mink, Eugene the Tuba player, Frank the Dog, Fast Eddie, Female Singers, Fletcher Bird, Flora the Koala, Fish Singer, Geri and the Atrics drummer, Geri and the Atrics tuba player, Geri and the Atrics piano player, Grump, Gladys, Gnu, Girl Singers, Harrison, Heaps, Horses, Jake the Polar Bear, Jeremiah Tortoise, Jowls, Kermit and the Frog and Miss Piggy's offspring, Kasey the Kangaroo, Leo, Lobsters, Lugsy, Loyal Royal Advisor, Maxine, Mr. Poodlepants, Muppets Tonight floor manager, Muppets Tonight Band, One-Eyed Jack, Prairie Dogs, Pervical Bear, Phoenicia the Hippo, Pirates, Possums, Porcupine, Rabbits, Raccoons, Red monster pirate, Shakey Sanchez, Shakes the Rat, Shark, Sheep, Spiders, Snort, Stinky the Skunk, The Birdman, The Glutton, Trumpet Girl, Troy, Turkey, The Termite, Twill, Twitch, Undertaker, Wally, Yak, Yellow monster pirate
Sesame Street Characters (speaking)
Abby Cadabby, Animals, Anything Muppets, Big Bad Wolf, Baby Bear, Bert, Big Bird, Bruno the Trashman, Buster the Horse, Cookie Monster, Chickens, Chicago the Lion, Count von Count, Curly Bear, Elmo, Ernie, Frazzle, Grover, Grundgetta, Gladys the Cow, Guy Smiley, Herb the Dinosaur, Herry Monster, Hoots the Owl, Kermit the Forg, Lulu, Martians, Mama Bear, Mel, Murray Monster, Mr. Dragon, Mr. Johnson, Narf, Oscar the Grouch, Ovejita, Papa Bear, Penguins, Prairie Dawn, Porcupine, Rosita, Sherlock Hemlock, Simon Soundman, Snuffleupagus, Skunk, Stinky the Stinkweed, Stuckweed, Telly Monster, Two-Headed Monster, Zoe
Background Sesame Street Characters (non-speaking)
AM Monsters, Billy (monster), Baby Fats Domino, Dingers, Forgetful Jones, Fish, Grandmother Happy, Grouches, Googel, Honkers, Horatio the Elephant, Little Bird, Mike (Anything Muppet), Mommy Snuffleupagus, Mr. Can You Guess, Mr. Honker, Pearl, Phoebe, Raccoons, Roosevelt Franklin, Super Chicken, Swampy
Fraggle Rock Characters (speaking)
Boober Fraggle, Gobo Fraggle, Mokey Fraggle, Red Fraggle, Uncle Traveling Matt, Wembley Fraggle
Emmet Otter's Jug-Band Christmas Characters (non-speaking)
Doc Bullfrog, George and Melissa Rabbit, Old Lady Possum, Yancy Woodchuck, and two squirrels
Skeeter sketch: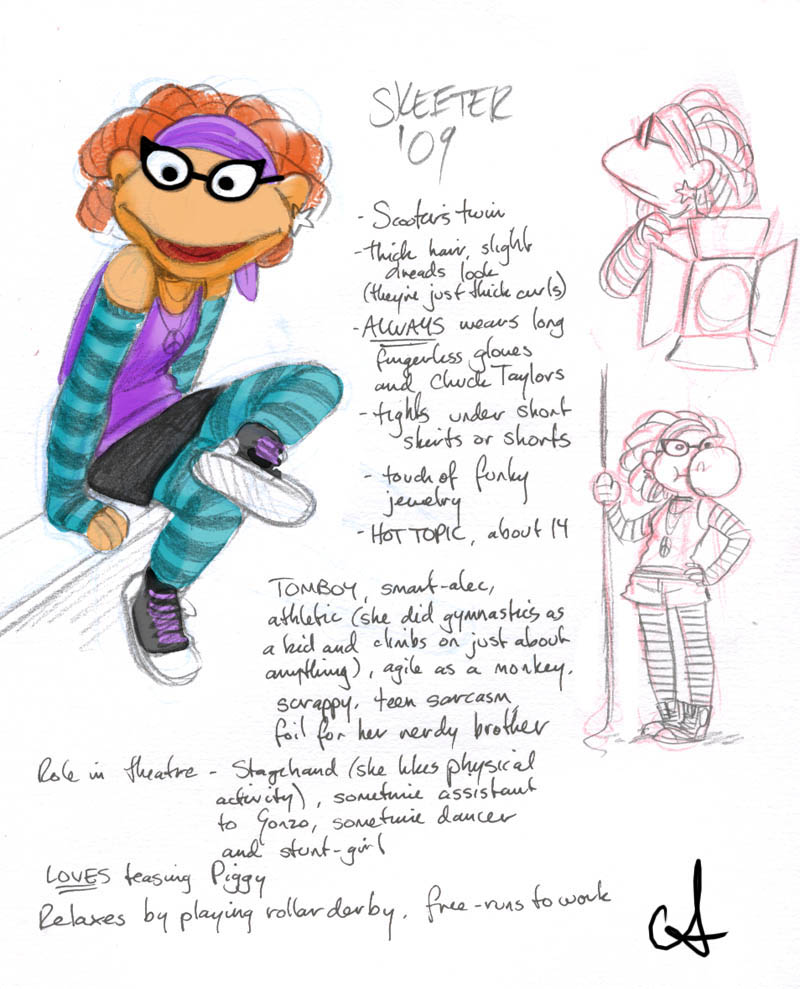 Muppet Performers
Matt Vogel, Eric Jacobson, Dave Goelz, Bill Barretta, David Rudman, Peter Linz, Louise Gold, Julianne Buescher, Alice Dinnean, Jennifer Barnhart, Ryan Dillon, Leslie Carrara-Rudolph, Caroll Spinney, John Tartaglia, Kathryn Mullen, Karen Prell, Kevin Clash
Ad blocker interference detected!
Wikia is a free-to-use site that makes money from advertising. We have a modified experience for viewers using ad blockers

Wikia is not accessible if you've made further modifications. Remove the custom ad blocker rule(s) and the page will load as expected.