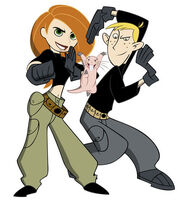 Kim Possible vs. Worldwide Evil Empire is a game for the Nintendo DS and Wii.It fetures Disney cameos from the following shows:
BOLD MEANS PLAYABLE
Emporer's New School   -Zim,Zam,Yzma,Kuzco and Kronk
Fillmore! -Fillmore,Ingrid and Valejo
The Replacements -Todd,Riley,Mr.Fleem,The "Fleem Bros.",Dick Daring,K Daring,Prince Cinnamon Boots and Car
Mickey Mouse Works - Donald Duck
PLAYABLE CHARACTERS
Hair-Dryer Grappler
Battlesuit
Kimmunicator (Hint Machine)
Rufus
Ronnumicator (Hint Machine)
Ron's Scooter
Way of the Monkey
Hana Stoppable (Only playable on levels 1,3,4,6,9 and 11)
Super Dance
Rufus Toy
Walkie Talkie (Hint Machine)
Super Shoes
Zita Flores (Only playable during boss battles)
Everlot Transport
Cheat Book (Hint Machine)
Sword
Yori (Only Playable on levels 2,5,7,8,10 and 12)
Lotus Blade
Ninja Dart
Sensei Chat (Hint Machine)
Ad blocker interference detected!
Wikia is a free-to-use site that makes money from advertising. We have a modified experience for viewers using ad blockers

Wikia is not accessible if you've made further modifications. Remove the custom ad blocker rule(s) and the page will load as expected.