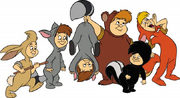 Quotes and Lines spoken by The Lost Boys.
Films
Peter Pan
How, Chief. How.
Okay, Chief. Uh, you win this time. Now turn us loose.
Sure. When we win we turn them loose.
When they win, they turn us loose.
They turn us loose.
Huh?
The chief's a great spoofer.
Tiger Lily?
We ain't got your ol' princess!
Me neither.
I think I had a mother once.
What was she like?
I forget.
I had a white rat.
That's no mother!
HOORAY! [all sing] Hook is a codfish!
A codfish. A codfish. Hook is a codfish! A codfish. A codfish.
Peter Pan II: Return to Neverland
Let's play the "Don't hit Cubby over the head" game.
Yeah all it takes is faith.
Trust.
And uh, something else.
[bumps into Nibs] That's it, ow.
Come on, come on, over here! [The Twins toss it to him, he slides it under him and Tootles gets it, and run through Jane's legs]
Come on, why don't you guy ever throw it to me!!?
I GOT IT! [The list flys into his mouth. As Jane gasps, he gulps it down, and burps]
Uh Peter? I think there's something wrong with Tinkerbell.
Ooh. Looks kinda bad.
Kinda bad? Kinda? [starts crying] Oh, it's hopeless! Poor little Tinkerbell! WAAAAAAAAAAAAAH!!!!!!!!!!!
What'd she say, Peter?
Well, let's just go and make her believe!
TV Series
House of Mouse
Video Games
Kinect Disneyland Adventures Series
Kingdom Hearts Birth by Sleep
"Look, Pan! We got the chest!"
"You go an' get 'em, Pan!"
"Somebody help!"
"Boy, you sure cut that monster down to size!"
"Hooray! We sure showed Hook this time!"
"Let's try kickin' him!"
"All right, all right, we're goin'!"
"Let's go! Let's go!"
"Ahoy! Look what we brought!"
"It's a pirate's treasure chest!"
"Uh, sorry, but... we losted all the treasures."
"We could just put what we treasure in there instead—if ya wanna?"
"He... he's gone!"
"Look! The light!"
"Over there!"
"I'm gonna be the leader!"
"We were so close."
"But Pan!"
"Of the expatition!"
"Uhh, we're goin' on a treasure hunt. And that's our map you got!"
"Nooo!"
"Whoopee!"
"Enough pointin'. C'mon, let's go!"
"The mark on the map points all the way up there."
"But... we've never had to flied that high before!"
"What if we fall?"
"Yeah, we know..."
"Ya mean we went all the way around Never Land for nothin'?"
"Oh, we losted it all."
"What's the matter?
Ad blocker interference detected!
Wikia is a free-to-use site that makes money from advertising. We have a modified experience for viewers using ad blockers

Wikia is not accessible if you've made further modifications. Remove the custom ad blocker rule(s) and the page will load as expected.