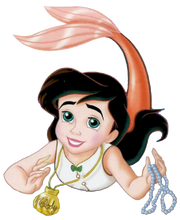 These are quotes and lines said by Ariel's daughter Melody from Disney's The Little Mermaid II: Return to the Sea.
Films
The Little Mermaid II: Return to the Sea
"Hey, Scuttle! Hey, Sebastian! What's kickin'?"
"It is expressly forbidden for you to be swimming beyond the safety of the sea wall. [continuing to imitate him] Any such swimmin' is a reckless disregard of da rules. Don't ya know?"
"Oh, Sebastian, I can't help it. I just love the sea!" 
"I know, I know. She'd flip."
"Hey, Sebastian... what's my mom got against the ocean anyway? I mean, how could there be anything wrong with something so... wonderful?"
"You know what? Sometimes I pretend... I have fins!"
"I wish I could tell my mom how I feel. But she'd never understand. I can talk to crabs, but not to her."
"The party!"
"Sorry. My fault. I gotta go. Can't go to the party without shoes." 
"Mother? What are you doing?" 
"I'm ready."
"Mom, put down the brush. It's hopeless."
"Do I have to do this? Everybody thinks I'm weird."
'You? No way. I'm just so afraid I'm gonna make a total fool of myself."
"Well, okay. I mean, it's kind of crazy and sort of impossible. Now, don't freak, but what I dream about... more than anything in the whole world..."
[crying] "What's wrong with me?"
"Mom, I'm the princess of disaster!"
[looking at her locket] ""Melody?" What is this? My name's on here. [Melody opens the locket and a lullaby plays] That song. Where have I heard it? It's Atlantica, with merpeople and everything. Mother, you always said it was just an old fish tale."
"I-- I found it."
"Actually, I went under it. I HATE that stupid wall."
"But why? And why does that necklace have my name on it?"
"You're hiding something from me."
"How would you know? You've never even been in it!"
"I've gotta figure this out. This necklace means something... and if no one's gonna tell me... I'm gonna find out myself."
"And she can tell me what this locket means, why it has my name on it?"
"Okay. Then let's go."
"Uh, no, thank you. I was hoping you could tell me about this pendant... why it has my name on it. My mother wouldn't tell me. She just doesn't understand."
"A mermaid? But it's not possible."
"You can turn me into a mermaid?"
"Really?"
"I don't believe it! I'm a mermaid."
"I'm a mermaid!"
"What a totally cool feeling!" 
"Oh, excuse me. I'm so sorry, ma'am."
(Singing): "For a moment, all of me, is alive and at home in the sea."
(Singing) "If all of my curls are curled out of my hair."
"Oh, thank you! Thank you so much!"
"What's the matter?"
"Please. L-I don't want to go back to being an ordinary girl. Isn't there some way I can stay a mermaid?"
"What? Wh... What's too dangerous?"
"Maybe I could get it back for you."
"If I did, would you make me a mermaid forever?"
"Atlantica? You mean it's not just an old fish tale? It really exists?"
"My mother."
"Okay, I'll bring back your trident. You can count on me!"
"Hmm, let's see. South to Two Circles Pass... then, uh, north to... No, no, um, east... to, uh, hmm... My map. It's ruined. Now how am I gonna find my way to Atlantica?"
"Excuse me. You don't have to be scared of me. I won't hurt you."
"Hi. I'm Melody."
"Guys, I really have to get going, so if you could..."
"Guys..."
"Guys!"
"GUYS!! [The bickering duo finally stop] Do either of you know how to get to Atlantica? I don't have much time."
"I have to get something that was stolen from a friend. [shows them her tail] If not... I'll turn back into a..."
"A human."
"You will?"
"I knew it! It's real! Atlantica."
"It's so beautiful."
"I'm Mel... Mel..."
"Come on. Follow me. That must be him. He looks sad. He doesn't look like a thief."
"Look! There it is!"
"My necklace!"
"All this time... Atlantica was never that far away from home."
"It used to be."
"It wasn't built to keep something out. [angrily] It was built to keep me in!" 
"Come on. Let's go."
"No, wait! It's just..."
"But... But my friends..."
"Mom!?!"
"You're a mermaid?"
"All this time, and you never told me?"
"By fencing me in! You knew how much I loved the sea. Why did you keep the truth from me?"
[swims away] "To late, Mom!"
"Mom!"
"My... My grandfather?" 
"You tricked me!" 
"It's no use. It's too thick. Oh, Flounder. I've ruined everything."
"What's... What's happening? Oh, no! Oh!"
"Mom!"
"Stay back!"
"Grandfather, I think this belongs to you." [tosses the trident to King Triton, who catches it]
"Dad?"
"I'm sorry, Mother." 
"I didn't mean to hurt anyone. I just hoped I'd be a better mermaid than a girl."
"Oh, Grandfather!"
"I have a better idea. Now we can all be together!"
"Come on in! There's plenty of water for everyone!"
Ad blocker interference detected!
Wikia is a free-to-use site that makes money from advertising. We have a modified experience for viewers using ad blockers

Wikia is not accessible if you've made further modifications. Remove the custom ad blocker rule(s) and the page will load as expected.