Ad blocker interference detected!
Wikia is a free-to-use site that makes money from advertising. We have a modified experience for viewers using ad blockers

Wikia is not accessible if you've made further modifications. Remove the custom ad blocker rule(s) and the page will load as expected.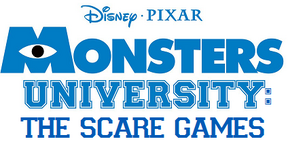 Monsters University:
The Scare Games 
is a party video game based on 
Monsters University
Plot
The game's story mode re-tells the events of Monsters University. In the game, up to four players compete as characters from the movie in a variety of mini-games and Scare Game challenges while vying for the role of "Top of the Class"
Game Modes
Scare Mode - The Scare Games competition played with each fraternity/sorrority
Story Mode - A re-telling of the Monsters University movie

Party Mode - A board game where several mini-games and Scare Game challanges are chosen at random

Theater Mode - Watch the story mode cutscenes as a movie
Characters
There is a total of 20 playable characters and 6 secret unlockable characters. The WiiU, Xbox 360, PS3, and 3DS versions of the game come with characters exclusive to the console's game
Name
Selection Quote
How to Unlock
Mike Wazowski
"This school's finally gonna see what Mike Wazowski can do!"
Starter
James P. "Sulley" Sullivan
"The star player has just arrived."
Starter
Scott "Squishy" Squibbles
"Can't wait to start scaring with you."
Starter
Randall "Randy" Boggs
"Randy Boggs, Scaring Major."
Starter
Johnny Worthington III
"Johnny Worthington, at your service."
Starter
Chet Alexander
"Oh Yeah!"
Starter
Carrie Williams
"I'm gonna rip you to pieces!"

Starter

Naomi Jackson
*giggles*
Starter
Heather Olson
"Go Monsters U!"
Starter
Roy "Big Red" O'Growlahan
"Now you are Jaws Theta Chi Material!"
Starter
George Sanderson
"George Sanderson, here!"
Starter
Omar Harris
"Let's get this started!"
Starter
Brynn Larson
"I was just getting warmed up for this!"
Finish Story Mode
Donna Soohoo
"All right!"
Finish Story Mode
Carla Delgado
"This'll be a good work out"
Finish Story Mode
Rosie Levin 
*hisses*
Finish Story Mode
Nadya Petrov
"Is time to party!"
Finish Story Mode
Sonia Lewis
"Let's kick this up a notch!"
Finish Story Mode
Claire Wheeler
"Awesome"
Finish Story Mode
Brock Pearson
"AW YEAAAAAHHHH!"
Finish Story Mode
Art
"Hey hey! I'm Art, New Age Philosophy Major."
Win in Scare Mode with Oozma Kappa
Javier Rios
"Hola."
Win the "Glow Urchin Tag" mini-game with Johnny, Randall, or Chet
Nancy Kim
"Pick me or whatever."
Win the "Hide and Sneak" mini-game in Party Mode with Rosie Levin
Percy Boleslaw
"M.U. RULES!!!!!"
Use the cheat code  "JOXRULE"
Celia Mae
"Hey there."
Use the cheat code "GOOGLYBEAR"
Maria Garcia
"Let's go, ladies!"
Use the cheat code "PUMPITUP"
Terri & Terry Perry

Terri: "I'm a dance major!"

Terry: "And I'm not."

WiiU exclusive. Input Up, up, down, down, left, right, left, right, B, A, Start on the WiiU controller at the game's title screen
Reggie Jacobs
*gibberish*
PS3 exclusive. Win Scare Mode with Roar Omega Roar
Susan Jensen
"Whatever"
3DS exclusive. Win Scare Mode with Eta Hiss Hiss
Britney Davis
"Helloooo!"
Xbox 360 exclusive. Win the "Don't Scare the Teen" mini game with Carrie Williams
Voice Cast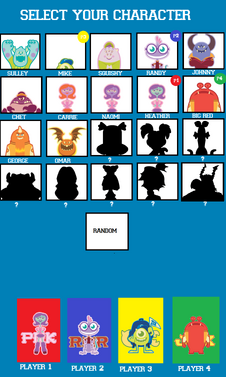 Fred Tatasciore - James P. "Sulley" Sullivan, Omar Harris, Additional Voices
Carlos Alazraqui - Mike Wazowski, Javier Rios, Additional Voices
J.P. Manoux - Randall "Randy" Boggs
Peter Sohn - Scott "Squishy" Squibbles
Sam Black - George Sanderson
Jason Marsden -  Brock Pearson, Additional Voices
Roger Craig Smith - Johnny Worthington III, Frank McCay, Additional Voices
Grey DeLisle-Griffin - Carrie Williams, Claire Wheeler, Rosie Levin, Mrs. Karen Graves, Naomi Jackson, Susan Jensen,  Additional Voices
Tara Strong - Sonia Lewis, Brynn Larson, Carla Delgado, Young Mike Wazowski, Britney Davis, Additional Voices
John Cygan - Roy "Big Red" O'Growlahan, Chip Geoff, Additional Voices
Jess Harnell - Percy Boleslaw, Additional Voices
Rob Paulsen - Chet Alexander, Terri Perry, Additional Voices
Kari Wahlgren - Donna Soohoo, Nadya Petrov, Heather Olson, Maria Garcia, Additional Voices
Mark Hamill - Professor Knight, Additional Voices
Jim Cummings - Reggie Jacobs, Additional Voices
Tom Kenny - Don Carlton
Dave Foley - Terry Perry, Additional Voices
Charlie Day - Art
Helen Mirren - Dean Hardscrabble
Frank Welker - Archie the Scare Pig,  Additional Voices
Julia Sweeney - Sherri Squibbles
Laura Bailey - Nancy Kim, Additional Voices
Tress MacNeille - The Librarian, Additional Voices
Jennifer Tilly - Celia Mae