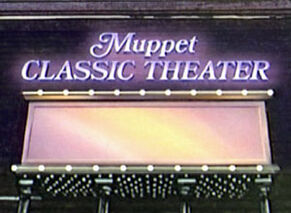 Muppet Classic Theater is an animated series based on the short flim. It will be on Disney Chanel, Disney XD, and The Hub. It will be on March 25, 2012. The Host will be Gonzo and Rizzo and Pepe okay . There will be old storys and new storys. Rizzo is The Make Uper and Gonzo is our Actor and Storyteller.
Characters
Kermit/ Actor
Miss Piggy/Actor
Fozzie/Actor
Gonzo/Storyteller and Actor and Host
Rizzo/Storyteller and Actor and Host
Pepe/ Storyteller in Season 3 and actor and host
Whatnots/Actors
Shadorf and Waldorf/ Actors
Animal/Actor
Sweetums/Bodyguard
Andy and Randy Pig/ Actors
Dr.Teeth, Zoot, Jance/Actors
Scooter/proudcer
Peguins/Band
Sam Eagle/Actor
Skeeter/Actor
The Moopets/Band
80sRobot/ Actor
Walter/ Actor and Directer
Thog/ Bodyguard
Episodes
Season 1:
Snow White/ Cinderalla/ Peter Pan

Adam and Eve/ How The World Started/ The Boy Who Cried Wolf (Remade)

The Empore New Clothes (remade)/ Elves

are back ! (Rizzo's Madeup Story)/Baby Jesus

The Invesibale Man/ James and The Giant Peach/ Jack and the Beanstalk

Hansle and Gretle/ The Prnicess and the Pea/ The Little Mermaid

Three Little Pigs are back ! (Rizzo's Made Up Story)

Long Episode

The Pot of Gold (St. Patrick Day Speisal)
Alice in Wonderland/ The Mind/ The Old Kite

The Classic is in The Future ! Part 1

The Classic in The Future ! Part 2

The Classic in The Future! Part 3 !

The Classic in The Future ! Part 4 !
Performers
Muppet Performers
Ad blocker interference detected!
Wikia is a free-to-use site that makes money from advertising. We have a modified experience for viewers using ad blockers

Wikia is not accessible if you've made further modifications. Remove the custom ad blocker rule(s) and the page will load as expected.