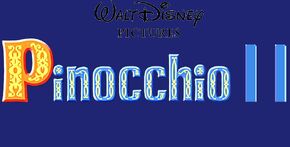 Walt Disney's 2017 Film a Sequel to Pinocchio II
Plot
Pinocchio is now a wooden boy Human is Back to the Puppets, and spends his life time with his dad. Then, a new wooden girl african american  Puppets is Patty. When, Gladys woke up and saw Patty walking and talking. She was pretty amazed. The next morning, Gladys sent to Patty off to vacation. She's going to visited meet Pinocchio, Jiminy Cricket and Friends at Geppetto's Workshop. Meanwhile while Stromboli was riding in the Caravan, he found the cage empty, and he was really mad! Stromboli has other plans to be rid of Pinocchio, Jiminy Cricket with Patty and Pete, with the help of J. Worthington Foulfellow, Gideon, and the Coachman Barker, also has plans to keep Donkeys in Pleasure Island. It's up to Pinocchio and his friends to save the day! Pinocchio the Creek Whale's Buster, Pinocchio Party!
Voice Cast
Elan Garfias = Pinocchio (voice)
Phil Snyder = Jiminy Cricket (voice)
Mallerie Rigsby = Patty (voice)
Jeff Bennett = Geppetto (voice)
Jennifer Hudson = Gladys (voice)
Frank Welker = Figaro (meow effects) and Gideon (hiccup effects)
Tara Strong = Cleo (bubbling effects)
Rosalyn Landor = The Blue Fairy (voice)
Haley Joel Osment = Pete (voice)
Rick Morans = The Gordon (voice)
Micheal E. Rogers = Tr. Marty (voice)
Tim Curry = Stromboli (voice)
Dee Bradley Baker = Honest John (voice)
Corey Burton = Barker the Coachman (voice)
David Gallagher = Lampwick (voice)
Josh Brolin = Shette (voice)
Eric Lloyd = Bert (voice)
Seth Adkins = Ernie (voice)
Jeff Cohen = Oscar (voice)
Nick Carson = Alexander (voice)
Adam Beach = Terence (voice)
Billi Paxton = Rodney (voice)
Sam Stockman = Ender (voice)
Dave Statler = Mocal (voice)
Eddie Redmayne = Bormie (voice)
Michael Caine = Officer Johnson (voice)
Christopher Lee = Police Gemdame (voice)
Matt Damon = Herly Grahor (voice)
Jake Zimmer = The Goon Dementor (voice)
Will Ryan = Indian Tobbacco Uncle, Clown Uncle, Rough Uncle,  Mr. Destory (voice)
Nick Nolte = Captain Doc (voice)
Don Knots' = Creek Whale ※ Monstro the Whale Cameo the secondary antagonist
Songs
Lots of Fun - Song by: Pinocchio, Jiminy Cricket, and Patty.
Artworks
Quotes
Pinocchio: There's no going back, is there, Patty?
Patty: No. I suppose not.
Pinocchio: I'll do the best I can to protect you. It won't be easy.
Patty: Well, Pinocchio, if it weren't for you, I'd have ended up in the shredder. But that doesn't matter now, does it?
Pinocchio: No, it doesn't. At least you're safe with me. I can trust you.
(Pinocchio and Patty start making out).
Transcript
Ad blocker interference detected!
Wikia is a free-to-use site that makes money from advertising. We have a modified experience for viewers using ad blockers

Wikia is not accessible if you've made further modifications. Remove the custom ad blocker rule(s) and the page will load as expected.