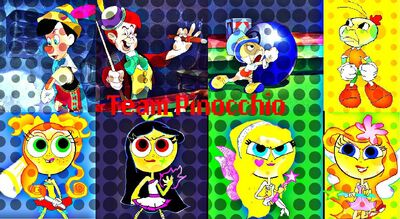 History
Pinocchio Party 360 is an arcade video game that ties in with Pinoke & Gigi 2 and Lampy & Mel. This is also a form of a third film of both the Pinocchio and Gingereena franchises since the real third film was scrapped. 
Playable Characters 
Pinocchio
Gingereena
Lampwick
Genesis Gonzolez
Jiminy Cricket
Timothy Grasshopper
Daphnie Fairyton
Melanie Setori
Non-Playable Characters
Geppetto
The Blue Fairy
Figaro
Cleo
Dingus
Oglviee
Cici
Official Artwork
Playable Villans
Honest John
The Coachman
Marissa Witchley
Gideon
Stromboli
Official Vehicles
Available for
Xbox 360
Xbox Kinect
Xbox
Nintendo DS
Nintendo 3DS
Nintendo 2DS
Google Play Market
Nintendo 3ds
Apple App Store
PS1
PS2
PS3
PSP
Wii
Wii U
Nintendo 64
Ad blocker interference detected!
Wikia is a free-to-use site that makes money from advertising. We have a modified experience for viewers using ad blockers

Wikia is not accessible if you've made further modifications. Remove the custom ad blocker rule(s) and the page will load as expected.