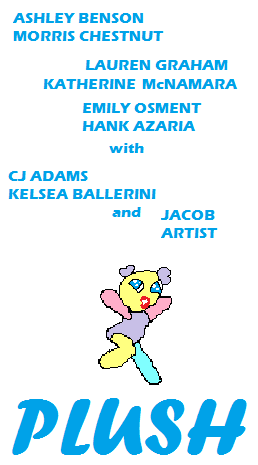 Plush
is an upcoming film. It's about a cuddly toy gets lost in a plane while trying to find her owner.
Cast
Ashley Benson as Puff-Ball - The main protagonist and Weiner's girlfriend.
Morris Chestnut as Weiner - An ill-tempered stuffed toy and Puff-Ball's boyfriend.
Lauren Graham as Rhonda - A human girl who is searching for a new toy.
Katherine McNamara as Commander Sweetwater - The leader of the TOY-GROUP.
Emily Osment as Marsden - A deformed toy and the main antagonist.
Hank Azaria as Omelette - A deformed toy who develops a romantic friendship with Marsden.
CJ Adams as Tiny Dude - The twin brother of Tiny Dude.
Kelsea Ballerini as Tiny Girl - The twin sister of Tiny Dude.
Jacob Artist as Bill, Phil, and Dill - A trio of abandoned toys.
Ad blocker interference detected!
Wikia is a free-to-use site that makes money from advertising. We have a modified experience for viewers using ad blockers

Wikia is not accessible if you've made further modifications. Remove the custom ad blocker rule(s) and the page will load as expected.