Seven seas is about a story about oceans
it's a story about a girl named Miami she is inspired by belle as attitude and as looks as Moana and lilo
this story may have some cameos of people from Moana, Frozen and a Toy story.
It is gonna be released in either 2019 or 2022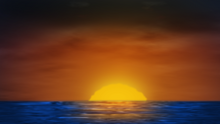 There is a scene when people were going on the ship of the seven seas . You can possibly see that one of the people going on the ship is Woody but human-sized weird.
There is a scene when Miami and Navigo were fighting the Dark Sea. In the ocean there were lots of floating wood chunks and pieces floating on the ocean and you see a snowman with his body floating apart and the snowman's face shape is similar to Olaf and when he flips his head over you see olaf's face.
When Miami's Cornation began you can see Elsa and Anna walking in the crowd in minute 8:30 in the left side of the screen. And you can see clearly infront of Miami is Moana and Maui.
Ad blocker interference detected!
Wikia is a free-to-use site that makes money from advertising. We have a modified experience for viewers using ad blockers

Wikia is not accessible if you've made further modifications. Remove the custom ad blocker rule(s) and the page will load as expected.