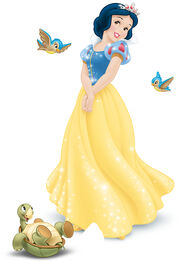 Snow White was the main heroine in Disney's first fairy tale, Snow White and the Seven Dwarfs.
Fandom
Gallery
Write the first section of your page here.
Trivia
Snow White was the 1st official Disney princess predating Cinderella, Aurora, Ariel, Belle, Jasmine, Pocahontas, Mulan, Tiana, Rapunzel, Merida, Anna, Elsa, Hebe (possibly), Anja, Anastasia Romanov, Anne Frank, Maariyah, Wreck-it Rachel, Alex, Lindsey, Jessi, Moria Farlow, an adult Boo, and Oddette.
Snow White was the first Disney Princess to be made by Disney.
Ad blocker interference detected!
Wikia is a free-to-use site that makes money from advertising. We have a modified experience for viewers using ad blockers

Wikia is not accessible if you've made further modifications. Remove the custom ad blocker rule(s) and the page will load as expected.