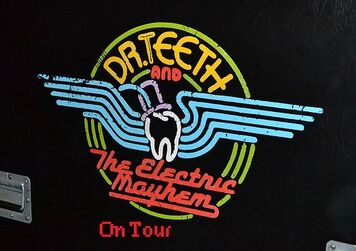 The Electric Mayhem:On Tour
(Originally "Mayhem On The Road") is an upcoming show starring Dr.Teeth and The Electric Mayhem
Plot
Dr.Teeth decides to take to take The Electric Mayhem on the road with Scooter as their manager,Beuregard as their drive,Sweetums as their bouncer and Crazy Harry as their pyrotechnician.
Cast
Bill Baretta - Dr.Teeth
Dave Goelz - Zoot,Beuregard
Matt Vogel - Floyd ,Crazy Harry,Sweetums
David Rudman - Janice,Scooter
Eric Jacobsen - Animal
Steve Whitmire - Lips
Ad blocker interference detected!
Wikia is a free-to-use site that makes money from advertising. We have a modified experience for viewers using ad blockers

Wikia is not accessible if you've made further modifications. Remove the custom ad blocker rule(s) and the page will load as expected.