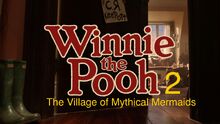 Winnie the Pooh 2: The Village of Mythical Mermaids is the created compilation of the first three short films (Winnie the Pooh and the Honey Tree, Winnie the Pooh and the Blustery Day and Winnie the Pooh and Tigger Too) and the Winnie the Pooh in We Say Goodbye segment from The Many Adventures of Winnie the Pooh.
Short Films
Original Voices
Original Songs
Ad blocker interference detected!
Wikia is a free-to-use site that makes money from advertising. We have a modified experience for viewers using ad blockers

Wikia is not accessible if you've made further modifications. Remove the custom ad blocker rule(s) and the page will load as expected.